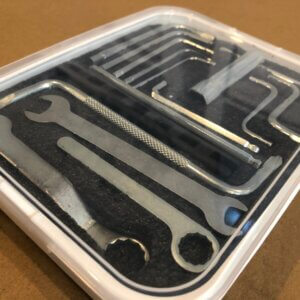 If you're into tools — think hammers and drills — you're probably familiar with the extremes people go to protect their prized possessions. The most popular system right now, based on my hours watching carpenter and electrician setups on YouTube, is Milwaukee Packout, an expansive line of interlocking boxes in all shapes and sizes (check out the drag-and-drop builder halfway down the page). These packouts are often fitted with Kaizen foam to further organize the Milwaukee, Makita, and Knipex therein.
If these brands get this kind of treatment, I figure there's one more company that deserves the same: IKEA. So I made the IKEA Packout, an ode to the most widely used tools in the world.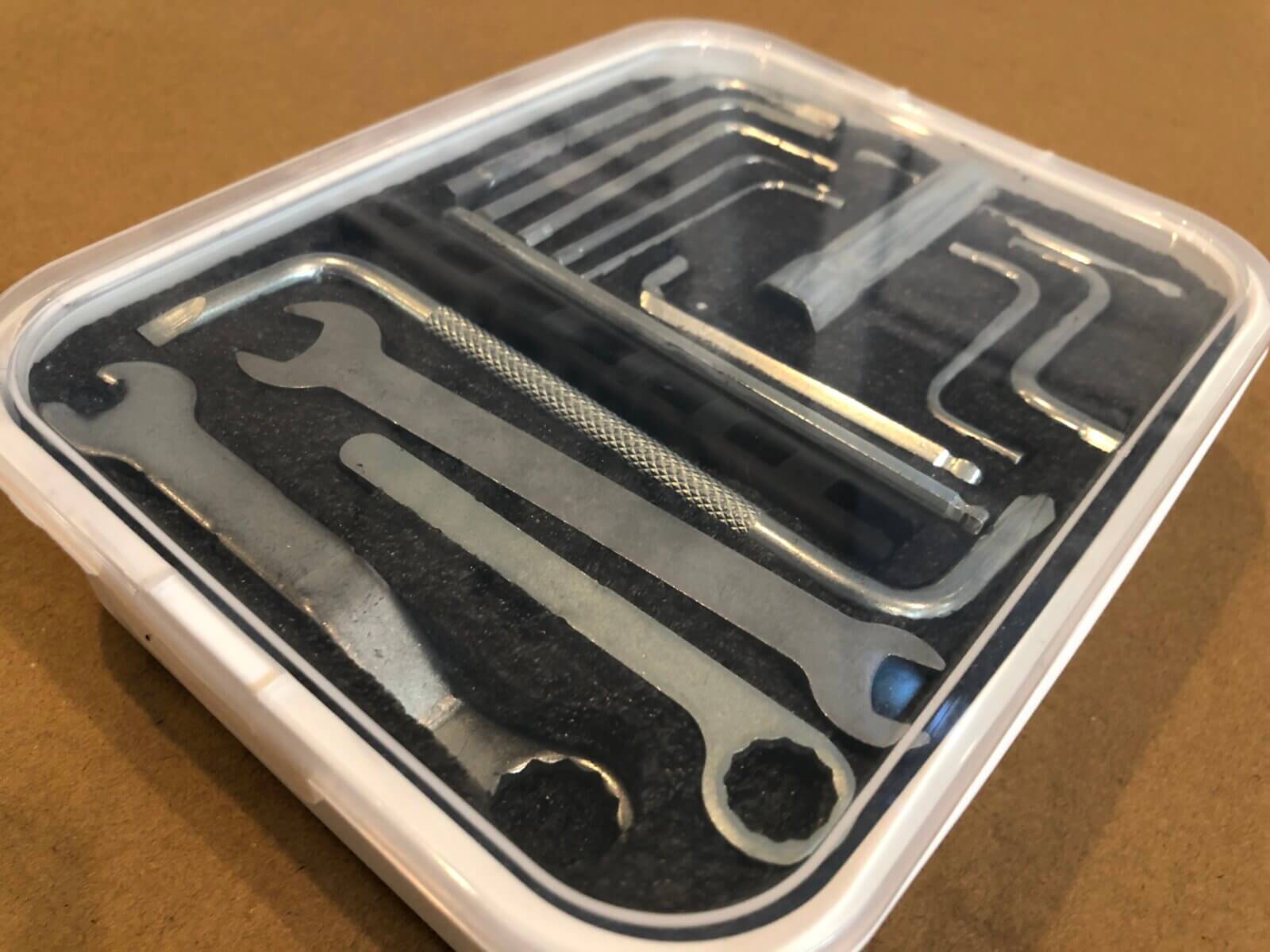 The Parts List
The IKEA Packout holds one of every single tool I could my hands on, mostly picked from the old IKEA hardware I had laying around. Grab this kit and you're ready to assemble or disassemble any Swedish furniture thrown your way.
This is a complete collection of IKEA tools available as far as I can tell. But the part numbers do tell a different story. So let me know what I'm missing. Here's the full list.
| Part No. | Description | Qty. |
| --- | --- | --- |
| 100001 | S-shaped hex key (4mm) | 1 |
| 100002 | S-shaped hex key (5mm) | 1 |
| 110084 | L-shaped hex key (2mm) | 1 |
| 100006 | L-shaped hex key (3mm) | 1 |
| 100092 | L-shaped hex key (4mm) | 1 |
| 108490 | L-shaped hex key (5mm) | 1 |
| 100049 | L-shaped hex key (6mm) | 1 |
| 130445 | Long ball-end L-shaped hex key (4mm) | 1 |
| 100003 | Short ball-end L-shaped hex key (5mm) | 1 |
| 121030 | Tool handle for hex keys (4mm and 5mm) | 1 |
| 100089 | Open spanner (8mm and 10mm) | 1 |
| 108184 | Ring spanner (11mm) | 1 |
| 113453 | Ring/open Z-shaped spanner (6mm and 13mm) | 1 |
| 120202 | Hollow wrench (13mm) | 1 |
| 106699 | Phillips #2 and slot S-shaped screwdriver | 1 |
For the container, I took a FIXA screw set, retailing for $4.99, and removed the orange insert. I cut some 30mm Kaizen foam to size and arranged the tools to fit.
With that, the kit was complete. But who knows, mounting feet to make it compatible with Milwaukee's stack might be in its future.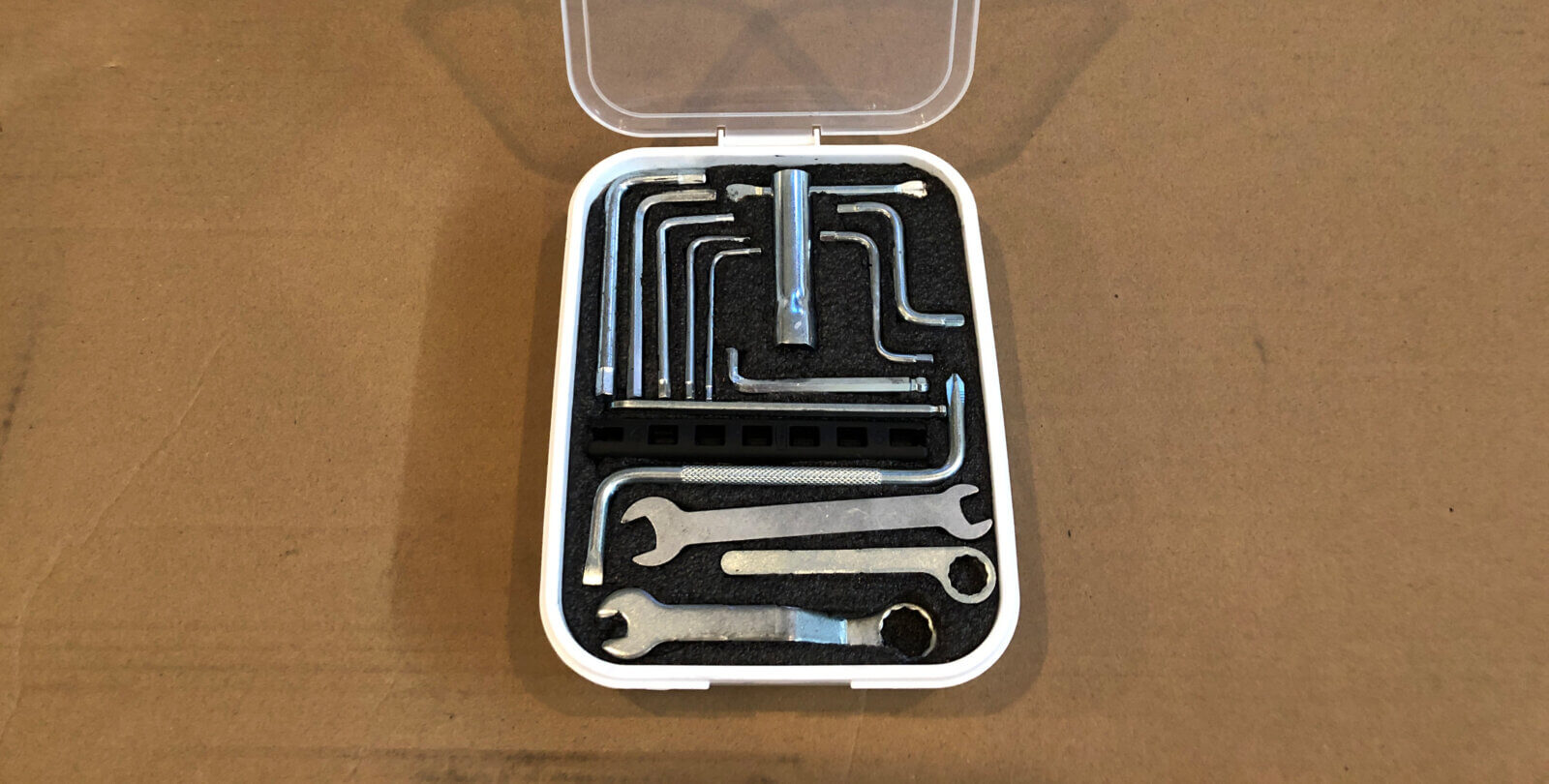 The Golden Rule of Assembling IKEA Furniture
Of course putting together your own IKEA Packout isn't at all practical. There are far better ways to equip yourself than scrounging around for stamped tools. In fact, this leads to the golden rule: using the right tool for the job.
The IKEA experience has a reputation for being frustrating, with screws stripping and absolutely nothing level, square, plumb, or true. But this is actually the one case you can safely blame your tools.
Put Down the Phillips
When you open the instructions booklet, you might see something like this.

No text of course, but you see the cross symbol so naturally reach for your Phillips screwdriver. Put it down.
Being a European company and all, IKEA hardly uses Phillips screws, but rather the superior Pozidriv. Size #2. You can tell the difference by the screw head. If it's a simple cross, it's a Phillips. If it's a cross with small hash lines on the diagonals, it's a Pozi.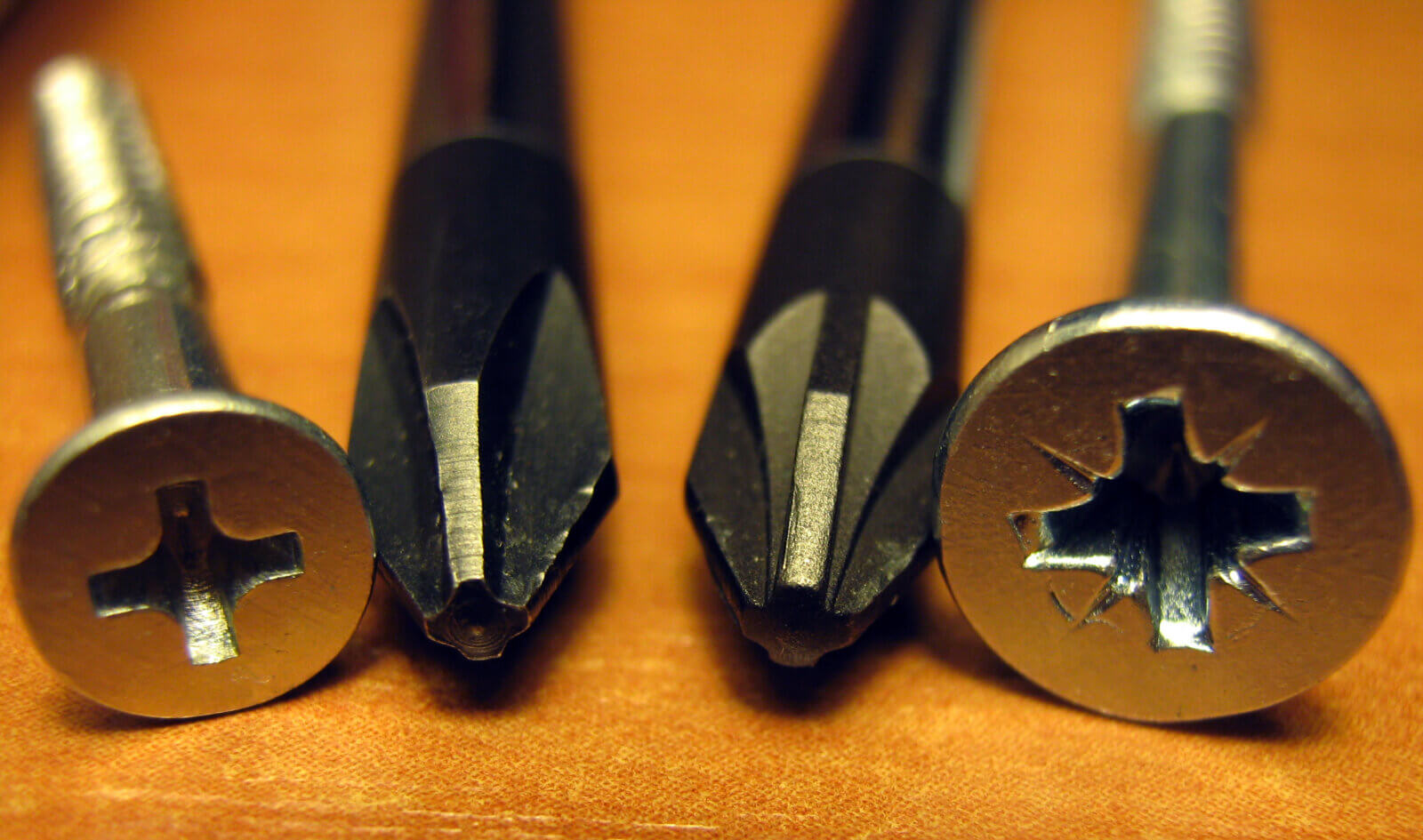 While nearly everyone gets by with a Phillips, it's what strips all the screws. You don't get the perfect fit.
This Fixa 17-piece tool kit comes with a PZ2 bit along with a bunch of other tools for cheap. Or pick up a high quality one like this Wera and be set for life.
Make it Metric
If you've misplaced the hex key that came with your flat pack, fear not. There's nothing special about them. Hex keys, aka Allen wrenches, can be found at any hardware store.
If you're reaching for the hex keys in your toolbox, they're most likely in imperial units. Being a European company, IKEA goes with the superior metric. You need millimeters instead of inches. As long as it covers from 2mm to 8mm (4mm being the classic IKEA size), like this Wera set, you're good to go.
Armed with a Pozidriv #2 screwdriver and metric hex keys, you'll have the right tools to take on IKEA and beyond.