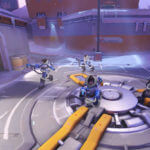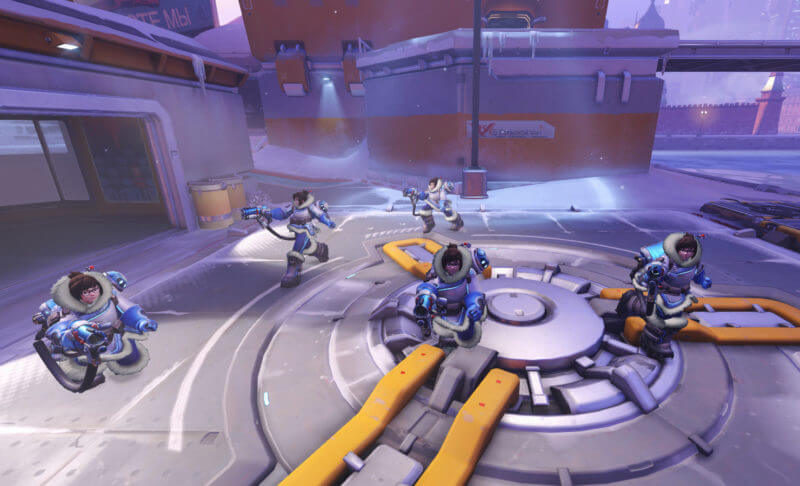 Welcome to another installment of the collective nouns survey. This time we focus on Overwatch, following surveys for Team Fortress 2 and Starcraft.
In Overwatch, there are 27 playable heroes so far, each with unique personalities and complementary abilities. When talking about a six-stack of McCrees or Meis (which isn't seen outside of arcade mode anymore), it's adequate but boring to refer to them as a "group" or "bunch".
Better to invent language like the terms of venery used for animals. You've got familiar terms like a pride of lions and a swarm of bees. And even more evocative ones likes a murder of crows, a parliament of owls, a prickle of porcupines, and a flamboyance of flamingos.
To choose the terms that best evoke each hero, I polled the Overwatch community. I presented four randomized choices and the option to write in your own. A final question asked respondents to give their main hero. Check out the survey and the solicitation on r/Overwatch.
The survey received 1,745 responses. I was surprised to find that many respondents placed little importance on alliteration. As far as the write-ins, some were so good that I kicked myself for not thinking of them. The best of these were given honorable mentions.
Here are the results. The full tally is given below.
Update (May 14, 2020)
I re-ran the survey for all heroes introduced since this post, including Ashe, Baptiste, Echo, Sigma, and Wrecking Ball, since there are no more heroes until Overwatch 2's release. Those have been added to the results.

An Assembly of Anas
An Ambush of Ashes
A Band of Baptistes
A Battalion of Bastions
A Brigade of Brigittes
A Division of D.Vas
A Drove of Doomfists
An Array of Echoes
A Gaggle of Genjis
A Horde of Hanzos
A Bombardment of Junkrats


A Rave of Lúcios
A Posse of McCrees
A Flurry of Meis
A Mirage of Mercys
A Mob of Moiras
A Stampede of Orisas
A Flock of Pharahs
A Wrath of Reapers
A Regiment of Reinhardts
A Rodeo of Roadhogs
A Surge of Sigmas


A Squad of Soldier: 76s
A Syndicate of Sombras
A Spectrum of Symmetras
A Troupe of Torbjörns
A Trail of Tracers
A Web of Widowmakers
A Troop of Winstons
A Rumble of Wrecking Balls
A Zeal of Zaryas
A Harmony of Zenyattas

An Assembly of Anas
Assembly37%
Army35%
Admonishment13%
Association11%
Ana Mains Call Themselves: Tie between Assembly and Army, which shows how close this one was.
Honorable Mention: Annoyance, both in that Ana can annoy you with anti-heal and sleep, and that she seems perpetually disappointed in you.
Other Write-Ins: Armada, Apocalypse, Tea Party, Retirement, Peek, Array, Eyeful, Arena, Parliament, Hobble, Administration, Arrangement, Abundance, Aviary
An Ambush of Ashes
Ambush55%
Anger18%
Association17%
Admonishment6%
Ashe Mains Call Themselves: Tie between Ambush and Anger.
Honorable Mention: Atonement, suggesting Ashe has turned the page on her criminal life.
Other Write-Ins: Assembly, Urn, Arsenal, Phoenix, Posse, Gang
A Band of Baptistes
Band32%
Battery29%
Bundle21%
Batch17%
Baptiste Mains Call Themselves: Band
Honorable Mention: Bunch, not as evocative as some of the other terms but rolls off the tongue.
Other Write-Ins: Bounce, Bevy, Brood, Battalion, Bond, Congregation
A Battalion of Bastions
Battalion53%
Battery23%
Band13%
Bulwark9%
Bastion Mains Call Themselves: Battalion
Honorable Mention: Bunch, which fits the subtlety and grace of Bastion.
Other Write-Ins: Bevy, Balustrade, Boom, Brothel
A Brigade of Brigittes
Brigade69%
Bunch11%
Bash9%
Bombardment7%
Brigitte Mains Call Themselves: Brigade
Honorable Mention: Crusade, it works nicely with Brigitte's backstory, but can't overcome the winner.
Other Write-Ins: Barricade, Baguette, Bruschetta, Phalanx, Bonanza, Terror, Bestiary, Battalion
A Division of D.Vas
Division51%
Dazzle28%
Detachment12%
Destruction5%
D.Va Mains Call Themselves: Division
Honorable Mention: Dervish, nothing better to call six D.Va mechs boosting around you than a whirling dervish.
Other Write-Ins: Defense, LAN Party, Deletion, Drove, Demolition, Dominion, Devotion, Detonation, Diversion, Dorito
A Drove of Doomfists
Drove36%
Flurry30%
Danger16%
Flog11%
Doomfist Mains Call Themselves: Flurry, they might have to fight Mei mains for it though.
Honorable Mention: Defenestration, because you have to use that word whenever possible.
Other Write-Ins: Disorder, Fistful, Crater, Handful, Domination, Dojo, Damnation, Dominion, Dragoon
An Array of Echoes
Array47%
Echelon33%
Exaltation9%
Reverberation8%
Echo Mains Call Themselves: Array.
Honorable Mention: Echo, as in an Echo of Echoes… is there an echo in here?
Other Write-Ins: Ring, Choir, Flight, Sound, Squadron
A Gaggle of Genjis
Gaggle50%
Gang37%
Group6%
Gulp3%
Genji Mains Call Themselves: Gang, because apparently Genji mains seem to take themselves much more seriously than other Overwatch players do.
Honorable Mention: Clan
Other Write-Ins: Dash, Gale, Gathering, Gimmick, Brotherhood, Gradient
A Horde of Hanzos
Horde33%
Quiver28%
Herd28%
Host7%
Hanzo Mains Call Themselves: Horde
Honorable Mention: Scatter, because now that the ability has been patched out of the game, we have to honor its memory somehow.
Other Write-Ins: Hierarchy, Geometry Class, Clan, Hazard, Harem
A Bombardment of Junkrats
Bombardment34%
Jalopy29%
Jury20%
Drove11%
Junkrat Mains Call Themselves: Bombardment
Honorable Mention: Heap, another common write-in was Spam which was the winner for Junkrat's TF2 counterpart, Demoman.
Other Write-Ins: Juggle, Jank, Dumpster, Jamboree, Jive, Spam, Cackle, Cluster, Jumble
A Rave of Lúcios
Rave39%
Legion26%
League22%
Leap10%
Lúcio Mains Call Themselves: Legion
Honorable Mention: Wave, let's be honest… pickings were slim here, but at least this plays off the idea of a sound wave.
Other Write-Ins: Loop, Line, Favela, Wall
A Posse of McCrees
Posse48%
Murder21%
Maraud14%
Maelstrom13%
McCree Mains Call Themselves: Posse
Honorable Mention: Mishap, because McCree's ultimate "High Noon" goes sideways more often than not.
Other Write-Ins: Misery, Meddling, Gang, Mass, Saloon, Mob, Hoedown, Passel, Mischief, Mid-Day, Magazine
A Flurry of Meis
Flurry38%
Mob35%
Monsoon16%
Squall7%
Mei Mains Call Themselves: Flurry
Honorable Mention: Malefaction, because a lineup of Meis is about as evil and terrifying as you can get. See image at top of post.
Other Write-Ins: Malady, Medley, Murder, Mash, Storm, Manifold, Maze, Maelstrom
A Mirage of Mercys
Mirage34%
Vale27%
Mend17%
Remedy13%
Mercy Mains Call Themselves: Mirage
Honorable Mention: Martyrdom, for the suffering Mercy players endure just to have a shot at winning the match.
Other Write-Ins: Chorus, Menagerie, Murmur, Cloud, Miracle, Mob, Choir, Staff, Marvel, Mound, Flutter, Mangle, Myriad, Wainscot, Mothball, Coterie, Menage, Mottle, Marquee
A Mob of Moiras
Mob41%
Marvel25%
Mania22%
Midnight8%
Moira Mains Call Themselves: Mob
Honorable Mention: Miasma, which reflects the visual vomit on your screen whenever a Moira ults, although masquerade and malevolence were also inspired.
Other Write-Ins: Masquerade, Malevolence, Aura, Massacre, Mosh, Coven
A Stampede of Orisas
Stampede50%
Onslaught23%
Orchestra20%
Observance5%
Orisa Mains Call Themselves: Stampede
Honorable Mention: Orgy, it's fun to say, although not to imagine.
Other Write-Ins: Obstruction, Optimization, Fortitude, Orchard, March, Omnibus, Enforcement, Oasis, Innocence
A Flock of Pharahs
Flock43%
Fleet26%
Phalanx17%
Flight12%
Pharah Mains Call Themselves: Flock
Honorable Mention: Formation, who wouldn't want to watch a team of Pharahs try to do precision air acrobatics like the Blue Angels.
Other Write-Ins: Flank, Parade, Plunge, Flimflam, Pandemonium, Barrage, Justice, Phoenix, Flotilla, Squadron
A Wrath of Reapers
Wrath35%
Revenant26%
Ravage23%
Revenge8%
Reaper Mains Call Themselves: Wrath
Honorable Mention: Ring, which is the arrangement a bunch of edgy Reapers would make to practice the occult.
Other Write-Ins: Murder, Edge, Wrangle, Wraith, Rout, Haunt, Blossom, Heap, Host, Blight, Rampage, Coven, Ruse, Resurgence, Renegade, Rally, Spook, Hot Topic
A Regiment of Reinhardts
Regiment48%
Rampage18%
Charge16%
Rampart15%
Reinhardt Mains Call Themselves: Regiment
Honorable Mention: Triumph, just sounds so knightly alongside a crusade of Brigittes.
Other Write-Ins: Bombast, Army, Wall, Crusade, Radiance, Romp, Rutting, Glory, Crash
A Rodeo of Roadhogs
Rodeo51%
Ragtag16%
Rash15%
Rout11%
Roadhog Mains Call Themselves: Rodeo
Honorable Mention: Rasher, imagine all the bacon you could get out of a Roadhog. Mmmm.
Other Write-Ins: Rumble, Rebuff, Rebellion, Chain Gang, Wall, Absolute Unit, Drove, Rotund, Onslaught, Ravage, Glut, Riot, Rack
A Surge of Sigmas
Surge34%
School32%
Study21%
Set8%
Sigma Mains Call Themselves: School
Honorable Mention: Symposium, a nod to Sigma's background in space and science, not to mention his obsession with music.
Other Write-Ins: Symphony, Asylum, System, Whisper, Schism
A Squad of Soldier: 76s
Squad81%
Service8%
Sprint5%
Slaughter4%
Soldier: 76 Mains Call Themselves: Squad
Honorable Mention: Salvo, as in a stream of Soldiers who fire their helix rockets and then immediately sprint away from the danger.
Other Write-Ins: Salute, Platoon, Army, Slew, Barracks, Retirement Home
A Syndicate of Sombras
Syndicate67%
Shade17%
Stealth7%
Sovereign7%
Sombra Mains Call Themselves: Syndicate
Honorable Mention: Conspiracy, nearly as good as the winning choice.
Other Write-Ins: Breach, Collective, Sneak, Sample, Shimmer, Swarm, Scurry, Murder, Suite, Cell, Sheen, Score
A Spectrum of Symmetras
Spectrum42%
System27%
Surplus19%
Sentinel10%
Symmetra Mains Call Themselves: Spectrum, as in the electromagnetic spectrum of course.
Honorable Mention: Circuit
Other Write-Ins: Council, Symmetry, Sandbox, Sovereign, Suffering, Projection, Assembly
A Troupe of Torbjörns
Troupe47%
Team22%
Temper14%
Tempest12%
Torbjörn Mains Call Themselves: Troupe, because a bunch of Torbs seem like they'd be boisterous and merry.
Honorable Mention: Tango, Tumescence
Other Write-Ins: Torrent, Trebuchet, Temblor, Workshop, Turret, Tragedy, Travesty, Tinker, Tumor, Thunder, Trove, Cast, Torment, Testament, Tsunami, Trollful, Letterbox, Gäng, Blight
A Trail of Tracers
Trail36%
Torment22%
Twitch20%
Trace16%
Tracer Mains Call Themselves: Torment
Honorable Mention: Cavalcade, a callback to Tracer's voiceline, "The cavalry's here!"
Other Write-Ins: Zip, Blink, Troupe, Team, Swarm, Trounce, Flash, Flit, Cavalry, Gaggle, Fleet, Tribe, Marathon, Stream, Rush, Slipstream, Track, Trope
A Web of Widowmakers
Web52%
Nest33%
Wave7%
Ward6%
Widowmaker Mains Call Themselves: Web
Honorable Mention: Whisper, even though after Widowmaker's nerf she's practically screaming her infra-sight voiceline.
Other Write-Ins: Weave, Murder, Sight, Wake, Baguette, Waste, Ballet, Wedding, Window, Wrath, Range
A Troop of Winstons
Troop35%
Wrangle30%
Warren18%
Wisdom12%
Winston Mains Call Themselves: Troop
Honorable Mention: Barrel, either a group of raging apes barreling through you, or the chaos of a barrel full of monkeys.
Other Write-Ins: Family, Band, Jungle, Coalition, Shrewdness, Wince, Rampage, Faculty, Whoop, Waddle, Warmth, Wallop
A Rumble of Wrecking Balls
Rumble39%
Cluster33%
Bobble15%
Hail9%
Wrecking Ball Mains Call Themselves: Cluster
Honorable Mention: Hail, as in a Hail of Hammonds.
Other Write-Ins: Bobble, Crash, Crew, Hail, Roll, Buttload, Orbit, Round, Rabble, Rout, Bombardment, Bunch
A Zeal of Zaryas
Zeal34%
Ray23%
Buzz22%
Glow14%
Zarya Mains Call Themselves: Zeal
Honorable Mention: Surge, it was right there in the ultimate name all along.
Other Write-Ins: Mass, Motherland, Bubble, Gulag, Zest, Zamboni, Commune, Pack, Girth, Regime, Flex, Army, Attraction, Zap, Accretion, Burst, Zephyr, Zenith, команда
A Harmony of Zenyattas
Harmony38%
Nirvana27%
Om17%
Tranquility11%
Zenyatta Mains Call Themselves: Harmony
Honorable Mention: Zenith, far and away the best write-in. There just aren't that many words that start with Z.
Other Write-Ins: Zoom, Zoo, Order, Zephyr, Monastery, Collective, Meditation, Mandala, Float, Unity, Ziggurat, A Lotta, Embrace, Trance, Zeppelin, Cult, Zeitgeist, Zealot, Singularity