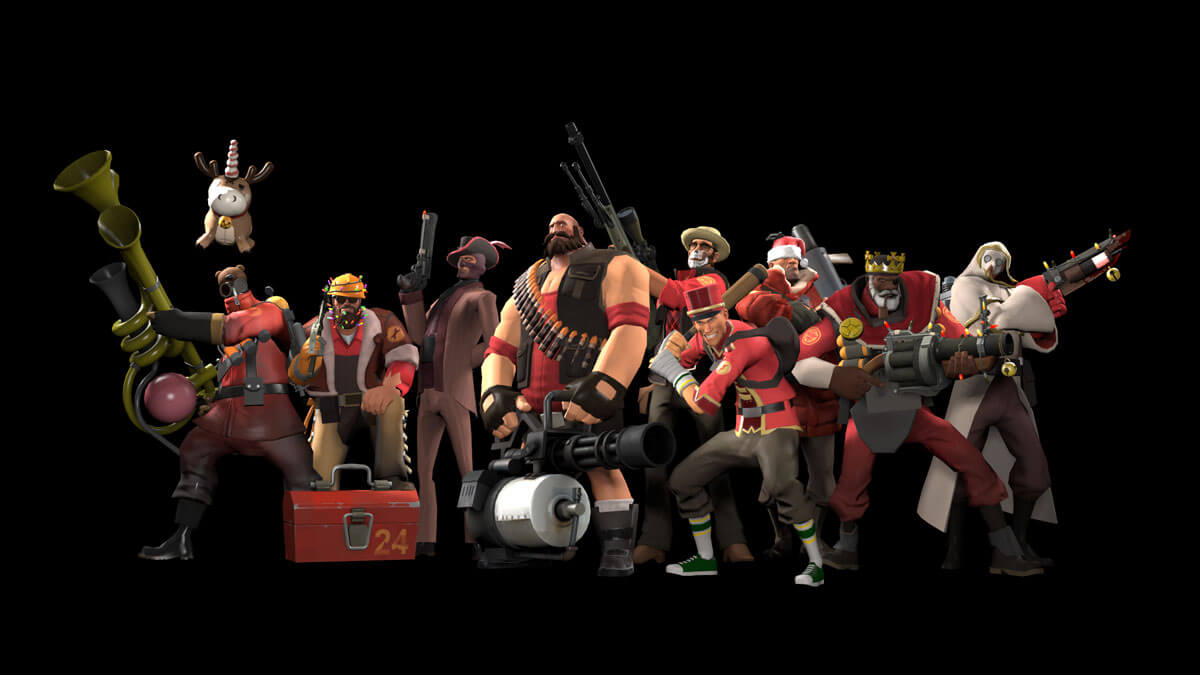 In Team Fortress 2, there are nine playable classes with unique personalities and complementary abilities: pyro, engineer, spy, heavy, sniper, scout, soldier, demo, and medic.
When referring to several scouts, or pyros, or heavies, it'd be perfectly adequate to refer to each as a "group" or "bunch". But given TF2's whimsical style, why not adopt creative language like the terms of venery used for animals? A pod of dolphins, a murder of crows, a zeal of zebras, a wisdom of wombats…
To decide on the term that best evokes each class, I polled the TF2 community, like I had previously done for Starcraft. For each class, I presented five choices and the option to write-in your own. A final question asked respondents to give their primary class. You can view the survey here.
Here are the results, based on 404 responses:
Swarm of Scouts
Squad of Soldiers
Pack of Pyros
Spam of Demos
Horde of Heavies
Nest of Engineers
Mob of Medics
Surplus of Snipers
Murder of Spies
Read on for the full details.
Swarm of Scouts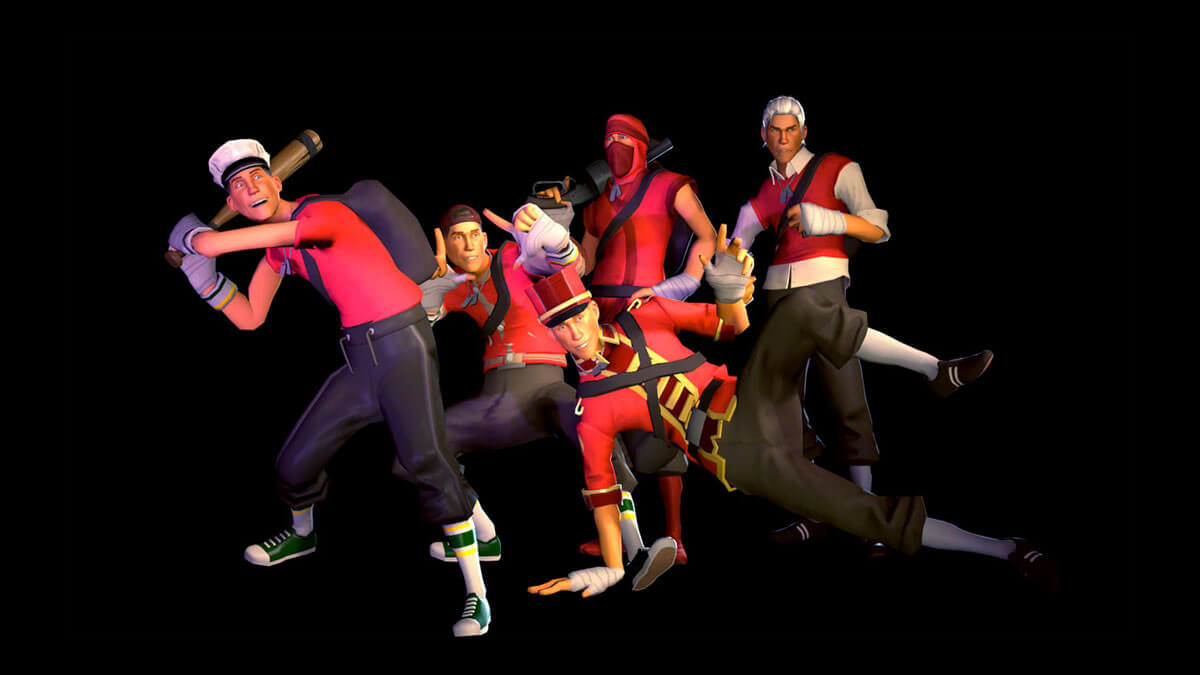 Scouts can certainly feel like a swarm of irritating gnats. I propose the alternate "flock" be used for soda-popper scouts.
Swarm32%
Scatter21%
Flock19%
Rush13%
Bonk9%
Write-Ins:
Scoot, Squad
Scouts call themselves:
Swarm
Squad of Soldiers
For soldiers, "squad" was the winner among the militaristic options. As write-ins, "flight" and "pocketful" were best at capturing the styles of gameplay soldiers are known for.
Squad46%
Battalion32%
Spam8%
Stock5%
Service3%
Write-Ins:
Flight, Pocketful, Platoon, Barrage, 'Merica
Soldiers call themselves:
Squad
Pack of Pyros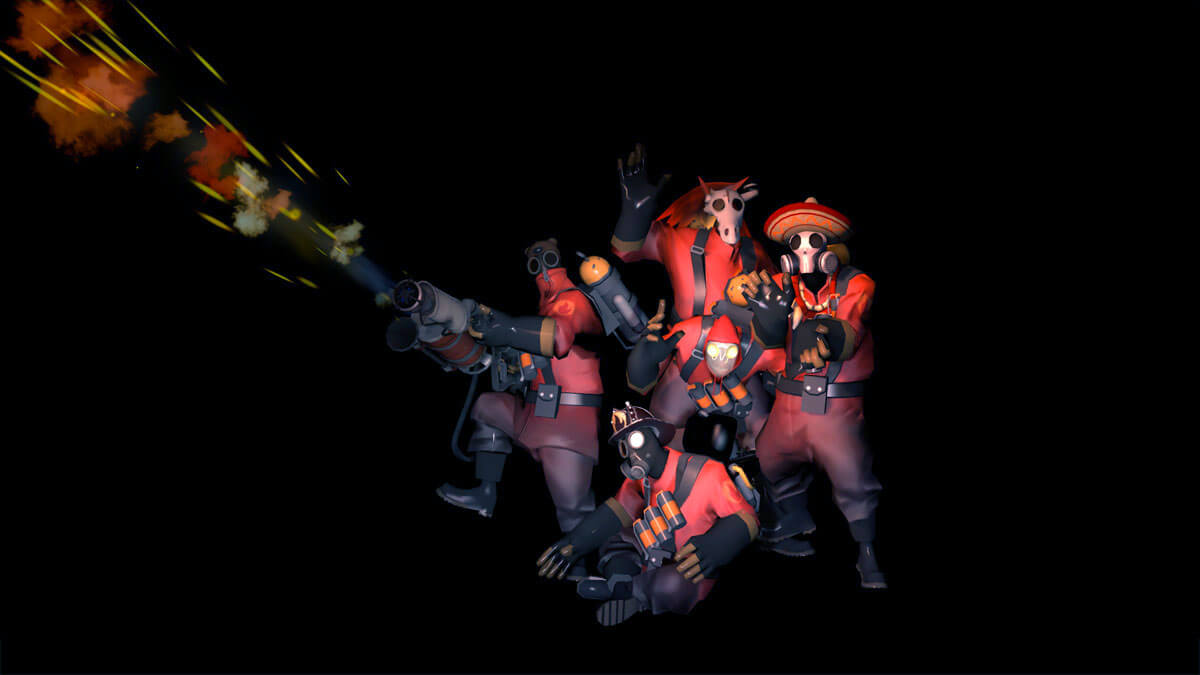 All five options for Pyro were popular, but "pack" was the frontrunner. There were plenty of write-ins as well. One of these was "patrol", which works well to describe pybros who dutifully spycheck.
Pack32%
Plague17%
Huddle15%
Phlog13%
Conflagration12%
Write-Ins:
Patrol, Hudda, Mmmph, Kindling, Inferno, Infestation, Blaze, Backdraft
Pyros call themselves:
Pack
Spam of Demos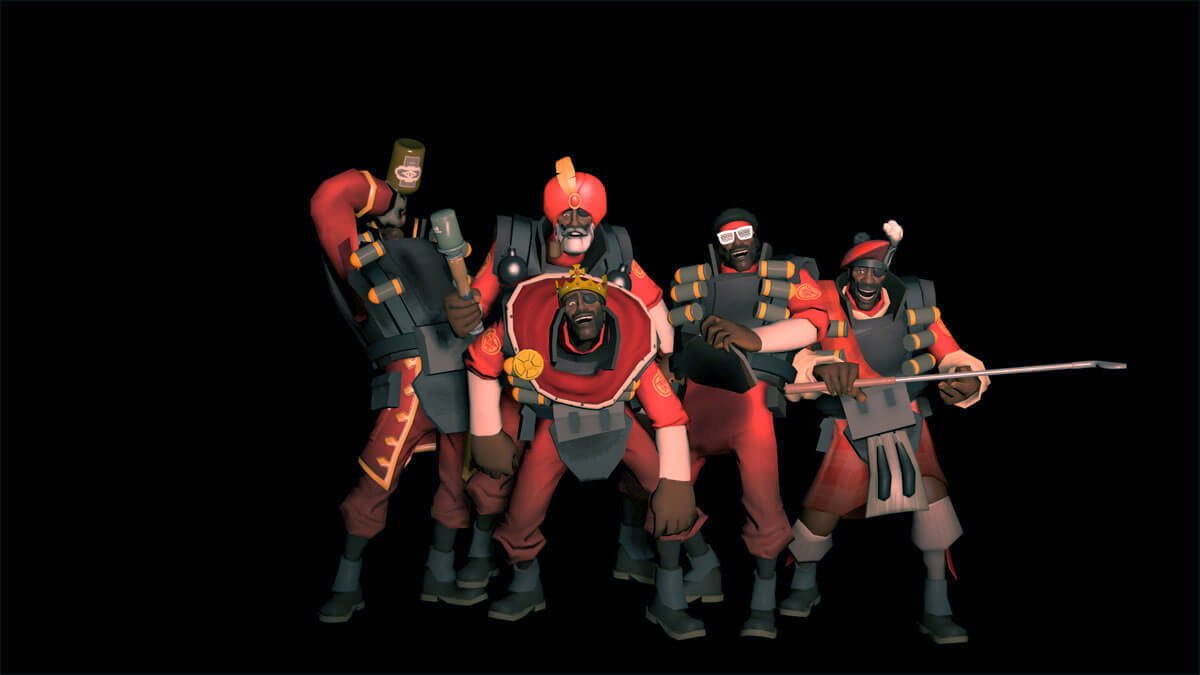 For demos, "spam" edged out the other choices. Demos mains saw it differently however, preferring the more neutral "drove". Most of the write-ins made reference to the demo's predilection for scrumpy. Like "keg", which nicely doubles as a reference to explosive gunpowder. Another write-in, "charge", is fitting for the demoknights headed your way.
Spam42%
Drove34%
Kaboom5%
Detonation3%
Domination2%
Write-Ins:
Charge, Demonstration, Keg, Drunk, Flask, Patch
Demos call themselves:
Drove
Horde of Heavies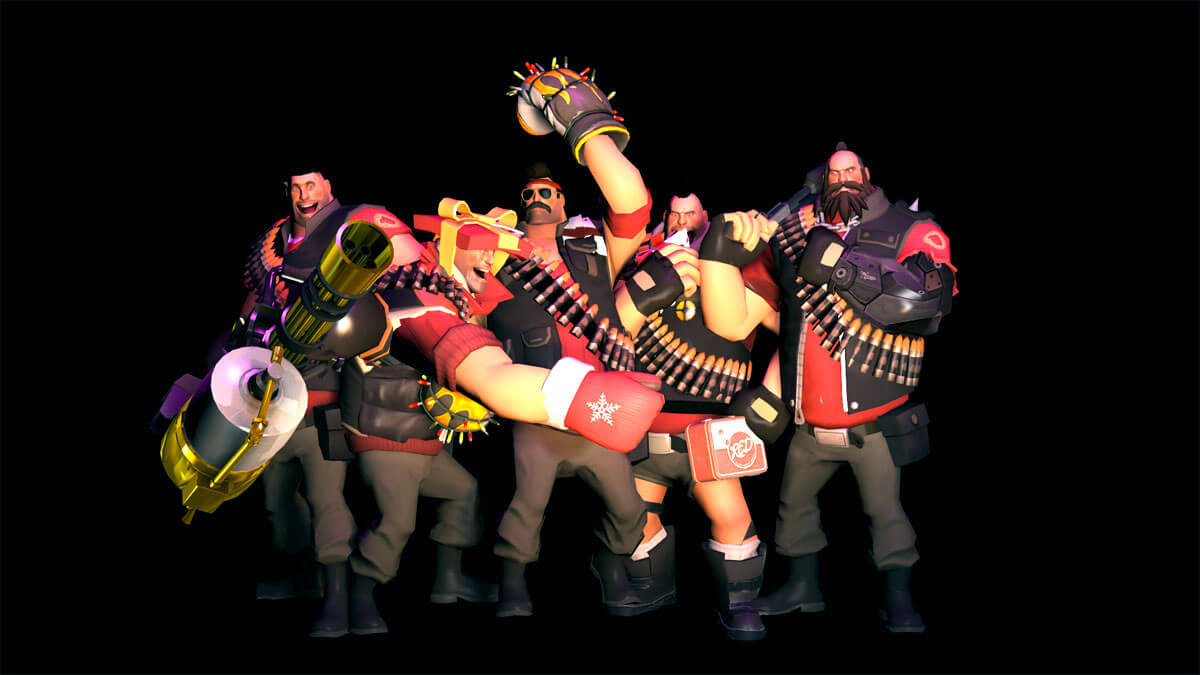 For heavies, it was neck-and-neck between "horde" and "herd", with "horde" on top by just 1 vote. Among the slow-moving, sandvich-munching heavy themselves, "herd" was more popular, proving that heavies have the best sense of humor. "Bevy" was an inspired write-in, and frankly should have been one of the original options on the survey.
Horde30%
Herd30%
Mass19%
Hulk7%
Heap6%
Write-Ins:
Bevy, Pootis, Stampede, Pile, Huddle, Bulk, Bulge, Blob
Heavies call themselves:
Herd
Nest of Engineers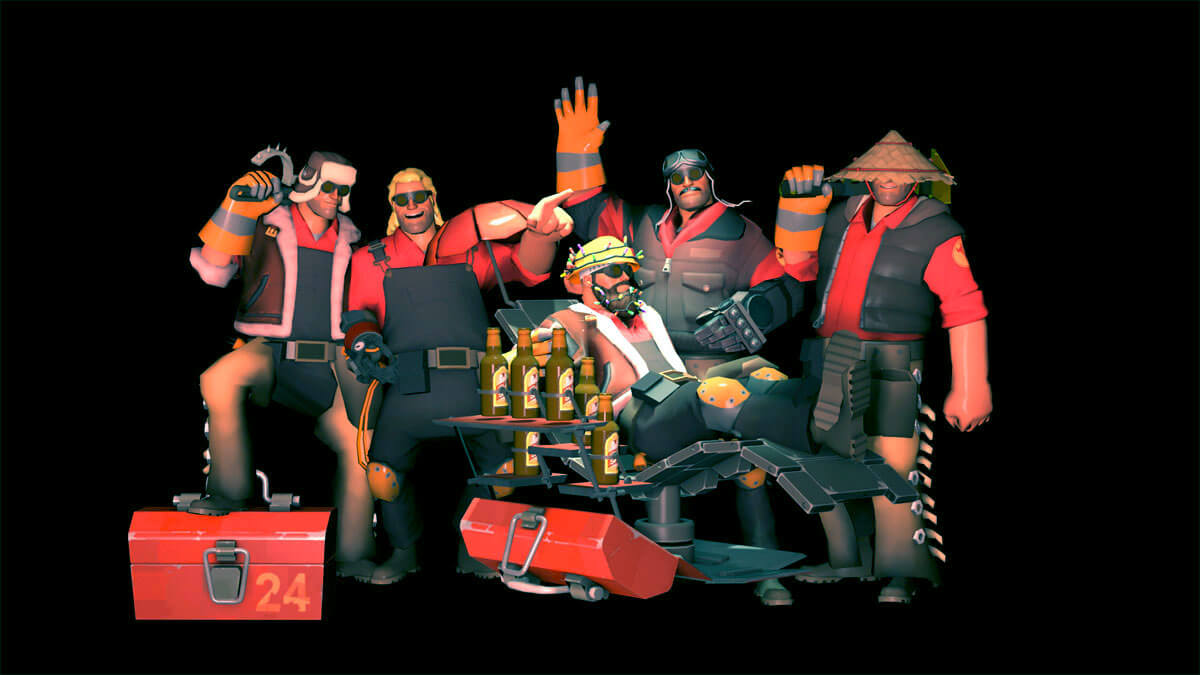 For engineers, "nest" was a predictable outcome, since it already exists in the TF2 lexicon. It's fitting all the same given that "nest" is also the collective noun for the turtle.
Nest47%
Hive19%
Crew14%
Rodeo7%
Wrangle6%
Write-Ins:
Hub, Network, Shed, Crib, Camp, Turtle, Mess
Engineers call themselves:
Nest
Mob of Medics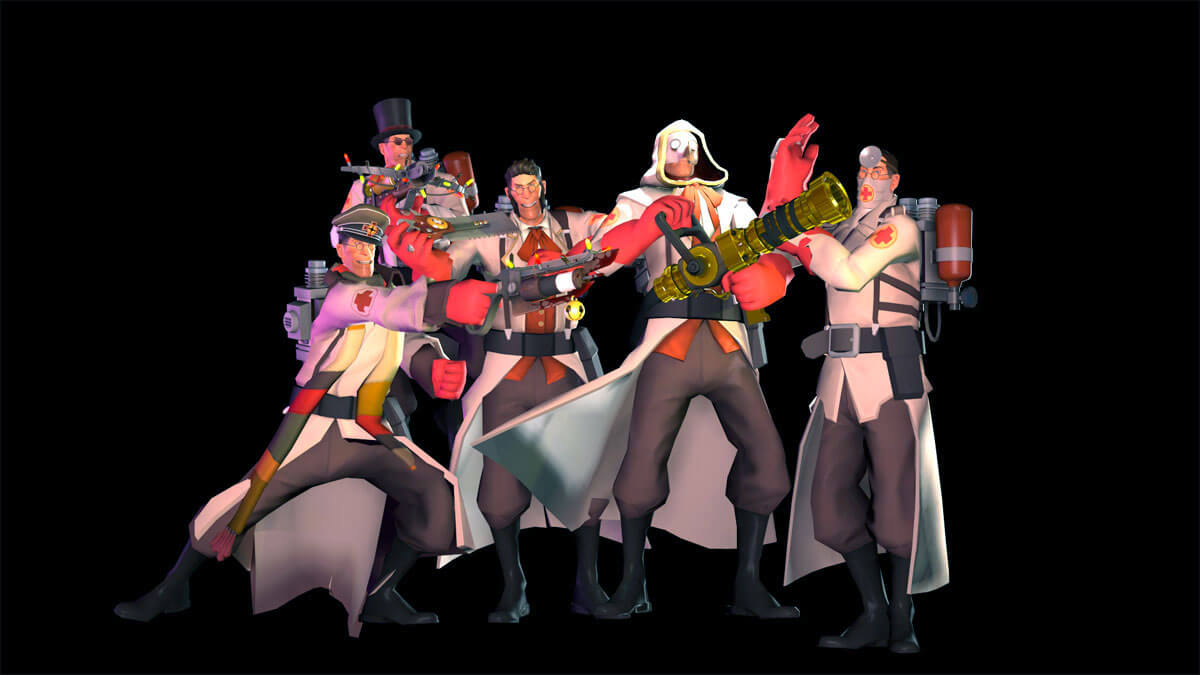 For medics, "mob" was the runaway choice, though you're unlikely to ever actually see one in the wild. Most of the write-ins played off the idea of medicine, though several also made bird-like references due to the plague masks they sometimes wear.
Mob42%
Quack15%
Prescription9%
Mirage8%
Mend6%
Write-Ins:
Dose, Ward, Triage, Chain, Uber, Practice, Flock, Gaggle, Crusade, Paradox
Medics call themselves:
Mob
Surplus of Snipers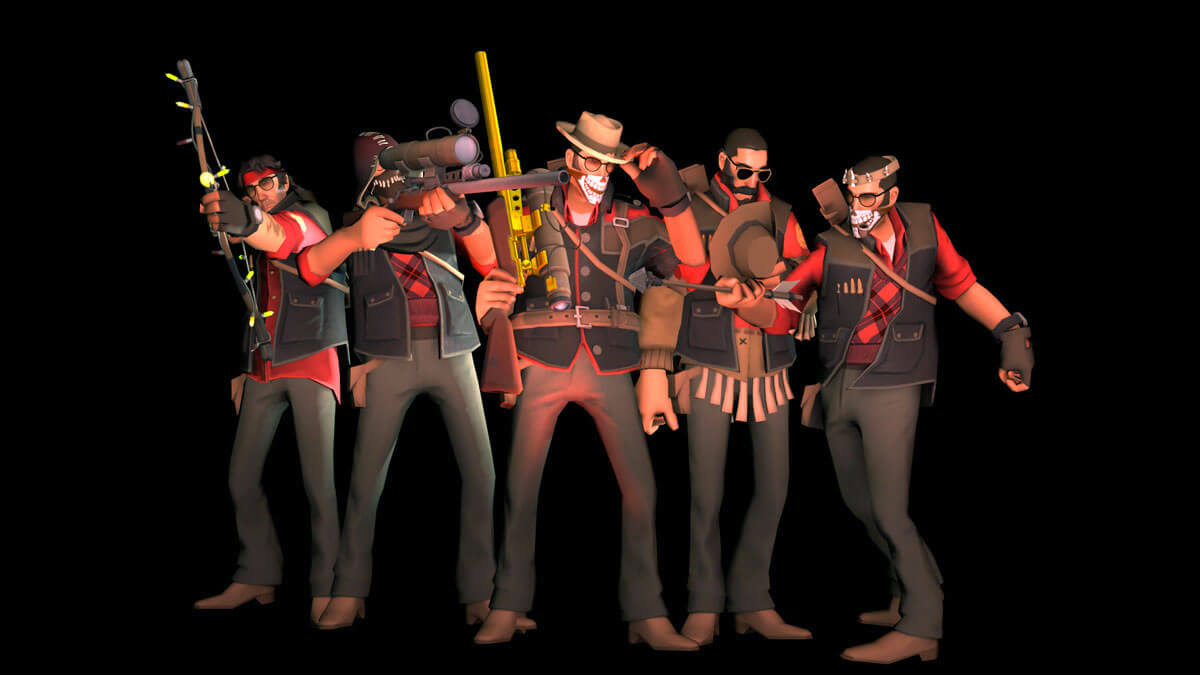 For snipers, "surplus" was the clear winner. On any given server, you're more likely to see an excess of snipers than any other class, and plenty of people expressed their displeasure at this fact. Based on their votes, even sniper mains themselves recognized it.
Surplus46%
Score13%
Society12%
Shelter5%
Snivel4%
Write-Ins:
Scope, Firing Squad, Battlement, Stand, Stakeout, Camper Van, Salvage, Teamful, Deadweight
Snipers call themselves:
Surplus
Murder of Spies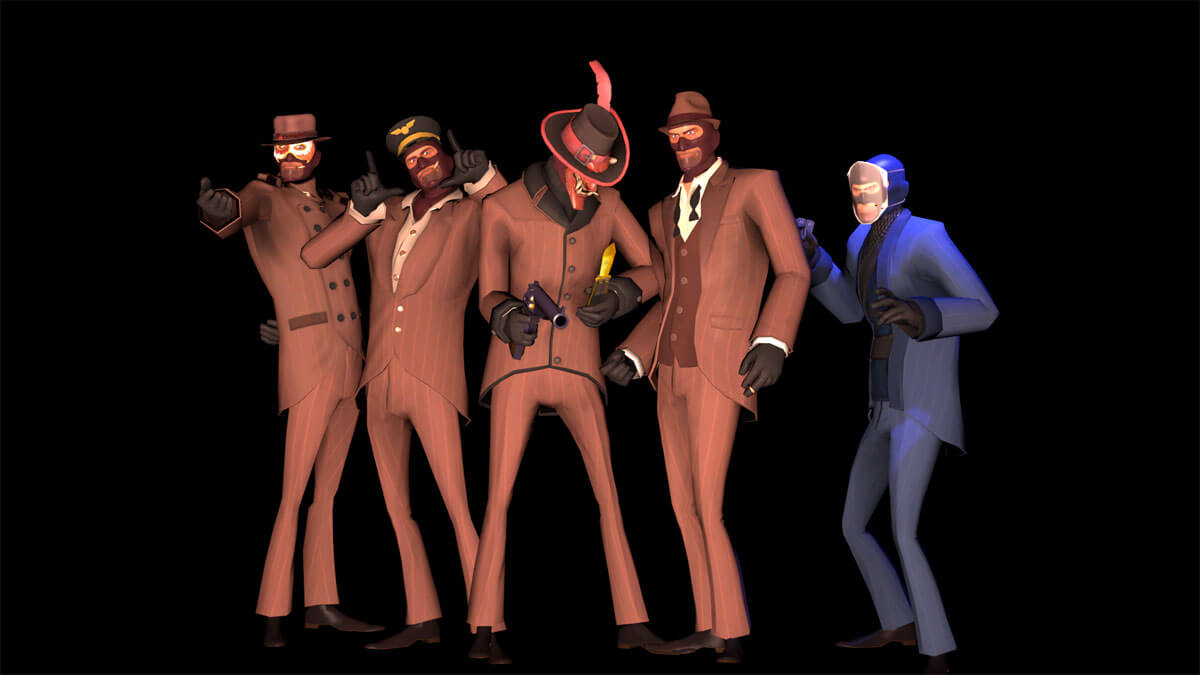 For spies, "murder" was most popular, though spy mains prefer to call themselves a "syndicate". Several write-ins deserve honorable mention, particularly "society", "conspiracy", "cloak", and "spook". A murder of spies is always a nightmare, for both teams.
Murder33%
Syndicate27%
Sneak11%
Slaughter8%
Mischief5%
Write-Ins:
Spook, Society, Conspiracy, Cloak, Shpee, Shadow, Smorgasborg, Shit-Ton
Spies call themselves:
Syndicate
Credits
My thanks to sting. for providing the artwork.