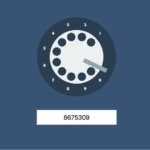 A bad web form sparked a series of increasingly absurd designs for inputting phone numbers, including an incrementer, slider, random number generator, and very large table. Here's a good rundown of the solutions developers came up with.
This is my take. It's a retro, skeuomorphic input based on the rotary telephone. Inefficient, but kinda fun. Try it out below, especially those of you too young to have ever handled a rotary.
You can also view the standalone demo and source on GitHub.